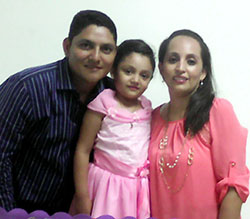 Hi, my name is Medardo Sanchez. My wife, Teresa, and I have a 5 year old daughter. I was born in a town called San Marcos de Colon. I currently live in a town called Choluteca. I was raised, from a very young age, in a religious Catholic family. I never was a bad child or teenager. I never drank or did drugs and I even served in the Catholic Church. One day when I was traveling on a public bus to visit some relatives, thieves tried to intercept the bus. The driver didn't stop and the thieves began to open fire on the bus, killing two and injuring around twenty. Unfortunately, I was one of the injured ones. I was shot twice in the torso and was very lucky that I wasn't killed. It was then that I realized that God had a plan for my life. I began to visit a Baptist church in my town and in 1999, after 2 years of listening to the Gospel, I finally gave my life to Christ and accepted Him as my true Lord and Savior. I immediately became involved in the church.
One day I was at my parent's home and witnessed the local Catholic Church members celebrating Easter. They were cutting themselves and crawling on their knees for miles. Once again I saw how God had taken me out of that "religion" and had given me a personal relationship with Him. I felt like there was something I could do but did not know what. In 2003 I asked the question, "God, what can I do?" I began to study in a seminary and 4 years later graduated. I have been preaching the word of God for 12 years.
My family I have been preaching in a very large and very poor area of Choluteca called San Francisco del Palomar for the past 2 years. We meet under a carport that someone lets us use. My wife has the gift of teaching. She not only teaches in a bilingual school here in town, but she also teaches Sunday school to the 40 or so children that attend on Sunday. I have the privilege of preaching to the 25 adults that currently attend on a regular basis.
I thank God for all the many blessings that He has provided for my family and me.
Medardo Antonio Sanchez
1 Timothy 1:12